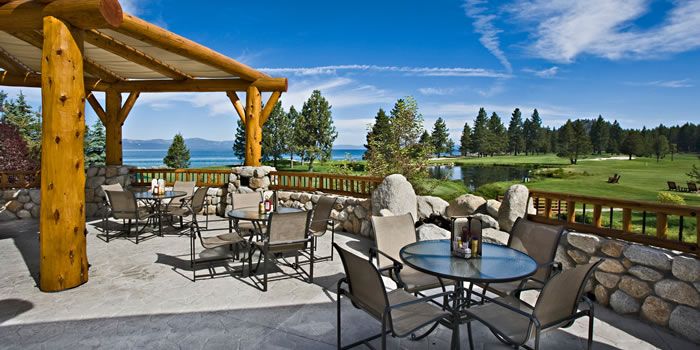 If you are looking for a great meal and even better views, Brooks Bar at Edgweood Tahoe should be your destination. It is worth leaving your luxury vacation rental kitchen for a few cocktails and a meal. Even after living in South Lake Tahoe for a while, I did not even know of this hidden gem. For those of us that are not big golfers, driving into Edgewood is not something I do very often. In my experience, most high end golf courses are private clubs, but Edgewood is open to the public and worth visiting! Here is a little tidbit from their website.  
Within, Brooks' feels very much like a sports bar designed by Frank Gehry: sweeping vaulted ceilings, walls of glass windows, a handsome wooden build. Yet the beautiful architecture belies the comfortable feel and attitude. With multiple flatscreen TVs tuned into the biggest game of the day, the bar features a number of quality local brews and a variety of signature cocktails. Casual dining fare, deluxe appetizers and entrees and sophisticated comfort food all put Brooks' at the top of its class.
Couldn't have said it better myself!
I happened to go on a Saturday, for an early lunch. The staff was just opening the outdoor deck, although we opted to sit inside to watch the hockey game. The Bloody Mary's were delicious, and they had some fun and different beers on tap, including Magic Hat #9. We ordered off the bar menu, but the full menu options looked delectable (just a bit more $$). My turkey, avocado, bacon sandwich and sweet potato fries hit the spot. I had more than enough food, and the bill was more reasonable than I expected (always a plus).
Overall the views are unbeatable; the service friendly and speedy, great drink selection and delicious food! I will definitely be back, can't wait to try a dinner out on the deck when the evenings are a bit warmer. We also looked at the dinner menu in the dining room, and decided that is the next spot for a nice dinner!
Want a rental that is close to Edgewood Tahoe? Check out our luxury "Twin Pines" rental!