Did you know that here in Tahoe, the surface of the lake is 6,225 feet above sea level?
In South Lake Tahoe, the Heavenly Mountain gondola takes skiers and sightseers up to 9,136 feet. Daredevil skiers and boarders can rise even higher up the Sky Express chairlift to 10,040 feet above sea level. With these drastic elevation changes it is not uncommon to experience a little bit of altitude sickness during a trip to Tahoe.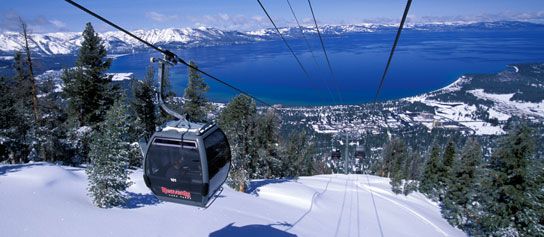 Atmospheric pressure decreases as the altitude climbs. At higher altitudes the air is thinner, and there is less oxygen available. Although everybody will react differently, these changes can cause some unpleasant side effects.
The first and most common side effect you might notice upon arriving to a higher elevation, is a

shortness in breath

and

faster/heavier breathing

especially when exercising.
You might also experience

nausea

, unusual

tiredness

,

headache

,

loss of appetite

or have difficulty

sleeping

.
Usually, these symptoms settle in a day or two as your body grows accustomed to the change. Acclimatization usually takes about 1-3 days, so plan your South Lake Tahoe activities accordingly!
While on your South Lake Tahoe Vacation, the best way to avoid these unpleasant symptoms (who wants to feel lousy when on vacation!!?) is to Take it Easy when you first arrive. Drink More Water than normal and maybe only have two après ski beers at Lakeside Casino instead of three. If you feel these symptoms while enjoying a day on Heavenly Mountain, head back down the gondola, take it easy and start drinking some water. Or relax in your vacation rental hot tub!